Steve Maxwell's Greek Odyssey Training Camp
Friday, May 24th - Wednesday, May 29th 2013
Start Time: 18:00 on Friday the 24th End Time: 18:00 On Wednesday the 29th
Join Steve Maxwell on a trip to his adopted home on Ikaria Island, Greece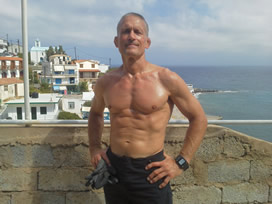 Steve at Armenistis, Ikaria island
In late May 2013, Steve will be traveling to the far-off island of Ikaria, a Greek island in the Aegean Sea, 10 nautical miles southwest of Samos.
Its name is derived from Icarus, the son of Daedalus in Greek mythology, who fell into the sea nearby.
Steve visited Ikaria in 2012 and was so taken with it, he decided to return in 2013 to host a springtime training camp and share the beauty of this island with his friends.
Come along with Steve and benefit from his unique outdoor conditioning strategies. Training activities will be held at various locations around the island and include running, jumping, swimming, lifting, throwing, defending, climbing, hiking and swimming. Also included: walking, joint mobility and partner massage as active recovery.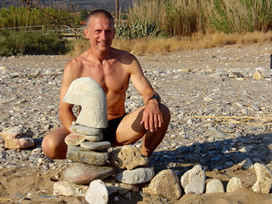 The cornerstone of the outdoor gym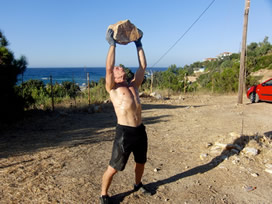 The anytime, anyplace, anywhere workout
May is the favorite time of year of the locals, and just before the tourist high-season begins.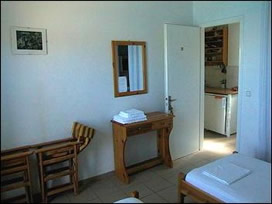 Typical room
Accommodation is at the Hotel Atsachas, in the small town of Armenistis, overlooking Lavidi beach, where the hotel has a stone stairway leading down to the sand.
Atsachas is also considered the best restaurant on the island, and one late-afternoon meal is included each day of your stay. This is home-style Greek cooking with an Ikarian touch. Breakfast and other meals are yours to arrange, by self-catering (kitchenettes available) or at local restaurants.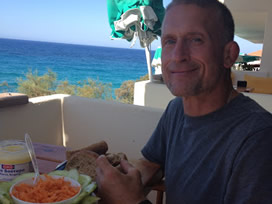 Lunch on your balcony (Steve optional)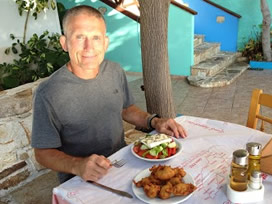 Greek salad and zucchini fritters at Atsachas
After each day's afternoon meal, Steve will hold a 90-minute symposium. At this time Steve will answer your training questions, converse about health topics, consider the pros and cons of the latest minimalist shoe styles, and address other relevant talking points as they arise; this is not a lecture but open discussion.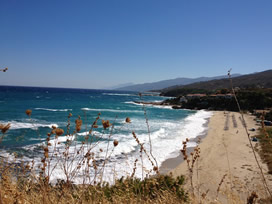 Lavidi Beach
The camp begins early evening on Friday 24 May, with a welcome meet-up on the terrace of the Atsachas restaurant, with complimentary appetizers and beverages.
Come introduce yourself to fellow travelers, get acquainted, and orient yourself with the coming week's labors and pleasures. Formal training commences at 9:00 Saturday morning, mustering outside on Lavidi beach.
Training will take place each morning, and some afternoons. There are also several excursions planned (see below).
Also in residence at camp will be Greg Carver, founder and trainer at StrengthBox Gym in Toronto CA. Greg will be assisting Steve with training sessions and leading evening activities.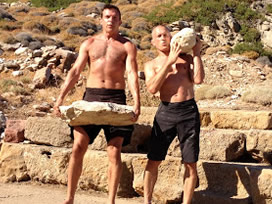 Steve and Greg worshipping at the Temple of Artemis
Greg has much experience in fitness, as well as in Greece--Ikaria in particular--and offers a wealth of Greek culture and language, as well as traditional dance instruction.
Prepare your arrival wisely and with care!
It takes some strategy to get to Ikaria, and for help in this, we recommend you contact Nikos at Academy Travel in Athens or Eugenia at Atsachas Hotel for assistance with local ferry schedules and hotel transfers. You will regret missing a single moment of this extraordinary event.
Projected Excursions
Hiking on Ikaria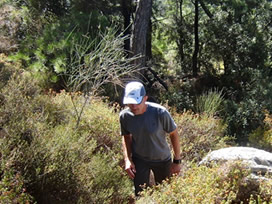 Hiking on Ikaria
Hike from the seaside village of Armenistis to the mountain village of Agios Dimitrios.
This hike is of easy-to-moderate difficulty and takes several hours each way.
Lunch at the top in Agios Dimitrios. Walk back by the main road.
Day Trip to the Kastro
Outing to the Kastro, an 11th century Byzantine fortress, via Kampos and Evdilos. From there to the other side of the island to Manganitis, a small fishing village, and a swim at one of the beautiful beaches. This is a day trip, involving several stops along the way to explore villages, landscapes, fortress ruins, and to enjoy a coffee at a local kafenio. (Transport by bus)
Stone Lifting at the Temple of Artemis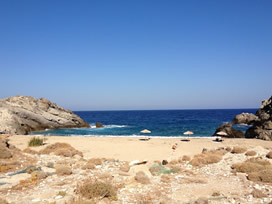 The beach at Nas
Run, walk (or ride in the bus) from Armenistis to Nas (approx 5 km of hilly road).
There will be a stone lifting workout at the Temple of Artemis and a swim at Nas beach.
A Night Out at Christos Raches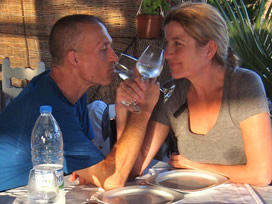 PWO romance
Evening trip and dinner at the mountain village of Christos Raches.
Experience a traditional meal with local Ikarian wine.
Roman Baths at Therma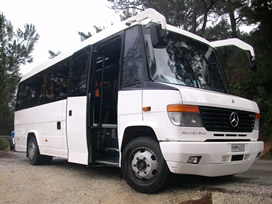 Get on the bus and ride with Coach
Visit to the ancient Roman baths at Therma, where the hot springs run into the ocean. (Transport by bus)
Cost:
1,230.00 EUR ($1,588) per person single occupancy
1,170 EUR ($1,510) per person, double-occupancy
One (hearty) meal per day included, plus all sponsored activities. Spaces limited to 13 rooms -- this will sell out.
Travel to and from Ikaria island is NOT included in this price.
Please read this: How to get to Ikaria island
We recommend arriving by ferry to the port of Evdilos, but it is also possible to arrive by plane from different points in EU. For assistance with travel arrangements, we suggest you contact Nikos at Academy Travel in Athens.
Feel free to contact Teresa with any questions about this event.
Here comes the science! A recent New York Times article on the phenomenon of longevity on Ikaria.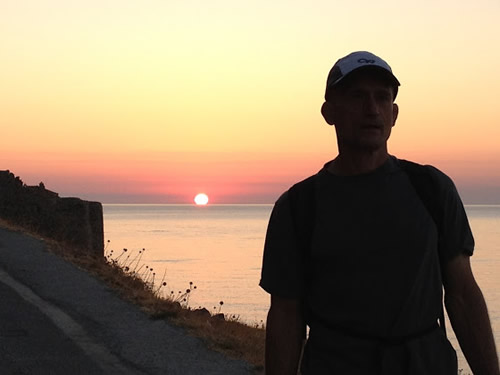 Magnificent
Register Now!